Katy Perry Gave An 'American Idol' Contestant His First Kiss (VIDEO)
Everyone remembers their fist kiss. And thanks to Katy Perry, 19-year-old Benjamin Glaze will certainly remember his forever. Especially because it was filmed on national television.
Benjamin auditioned to be on American Idol in front of judges Katy Perry, Luke Bryan, and Lionel Richie, but before he performed his audition song, the panel wanted to get to know him a little better.
The judges had asked Benjamin what he did for a living, and the teen revealed that he worked as a cashier at an electronics store. He said, "But I love it because sometimes there's cute girls, and they're not going anywhere without saying hi."
Luke, made a punny Katy Perry joke, and asked Ben, "Have you kissed a girl and liked it?" And Benjamin replied, "No, I've never been in a relationship. I can't kiss a girl without being in a relationship."
Shocked, Katy called Benjamin over to the judges table, where she stuck her cheek out for him to pucker up. Benjamin asked, "On the cheek?" and went in for it. Not satisfied, Katy said, "You didn't even make the smush sound!" So, she gave him one more shot. As Benjamin went to plant one on Katy's cheek again, she swiftly moved turned her head, catching his lips instead.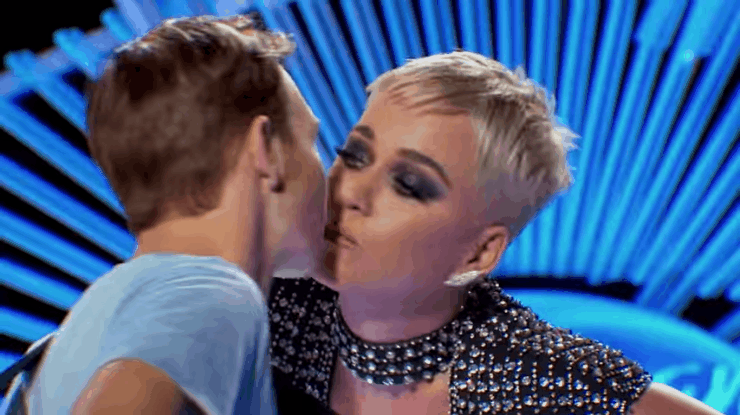 Completely caught off guard, once he regained his balance, Benjamin asked Katy, "How was it?" To which Katy replied, "How was it?! Oh, don't even try and get cocky now."
So, to sum it up, Benjamin had his very first kiss with pop superstar Katy Perry -- that's a story for the grandkids.
Following the kiss, Benjamin pulled himself together to perform his audition song, an acoustic version of Nick Jonas's 2014 single "Levels." Ultimately, the judges thought he needed some more time and practice, and did not give him a golden ticket to Hollywood.
Luke told him, "I just think you need to hone your craft a little more, get a little better at singing. So, I'm a no."
Katy followed up with, "Benjamin, I really enjoyed meeting you today. You gave my heart a flutter. I think you're really sweet. Truthfully, there are some people that are just out-singing you right now. You know? So I don't think it would be fair to put you in that kind of competition. You know, next time, just take a little bit more time. I think you were a bit rushed, and I think maybe that was because I sped up your BPM of the heartbeat."
See Benjamin's kiss and full American Idol audition below.